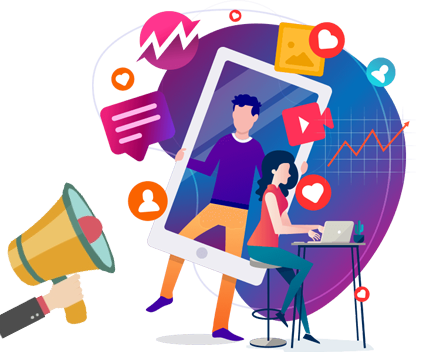 Effective Internet Marketing At A price that You Can Afford
Do you know at present social media channels such as Facebook and Twitter receive 10 times more views compared to search engines. Social media channels are the fastest growing phenomenon. By using these channels, you can surely explore many more real customers for your business.
Here at WebMechanix, our Vancouver SMM experts ensure strong social media presence of your product and services. You have the opportunity to directly connect to your audience and engage them in real-time.
Our marketers will analyze your business objective and improve your web presence through various social media platforms. It is essential to communicate with your existing and potential customers on various platforms to promote your business and get maximum ROI. We have the skills and tools to take your business to the next level. We can be your partner in success. Let us help you reach your targeted audience and boost your sales.
Benefits of Strong Presence on Social Media Channels
One-to-One Contact with Customers
Increased Exposure and Visibility
Feasible Internet Marketing Strategy
More Customers, More Leads
Real-Time Brand Promotion and Engagement
Don't know how to attract traffic from social media channels? Call our SMM experts now.
We Work On
Facebook
Twitter
Google+
Instagram
SlideShare
LinkedIn
Pinterest
Flickr
Vimeo
StumbleUpon
YouTube
Delicious
Why Choose Us?


Social Media Marketing Campaign
The social media marketing campaign include features to generate leads for your brand. We will post informative, unique and relevant content about your services on different social media platforms such as Facebook, Twitter, Pinterest etc.


Periodic Performance Analysis and Reporting
Our social media specialists keenly track the performance of the campaign and make necessary adjustments time to time. We will also provide detailed performance report to make you more vigilant about how social media marketing generating leads for your product and service.


In-depth Analysis
Our social media specialists will determine the best social media strategy for your business by analyzing your website, relevant keywords, traffic and competitors. We ensure that our strategies show the best results in less time.


Extensive Social Media Strategy
Our team understands that every business aim to increase customer engagement, brand awareness, targeted traffic and conversions. Which is why we design customized and comprehensive social media strategy to achieve the desired results.
WebMechanix has social media marketing specialists with extensive experience in establishing highly effective social media campaigns. We keenly observe the performance of the campaigns to ensure maximum ROI for your business. Integrate SEO with a customized social media marketing campaigns.
Want to improve your ROI. Contact our SMM experts for effective social media marketing techniques.