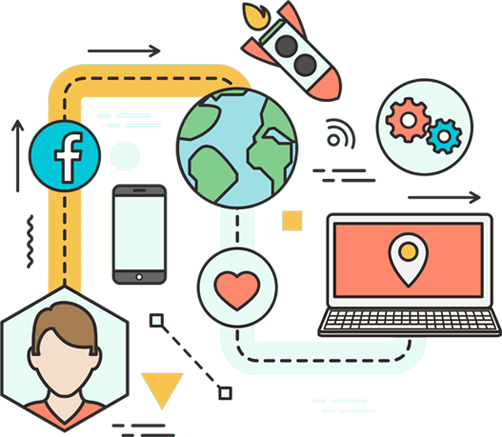 Search Engine Optimization Services in Vancouver
Our SEO Company will help you reach and stay at the top spot!
Search Engine Optimization (SEO) is an effective technique to grab the attention of popular search engines such as Google, Yahoo, Bing and others. There's no denying the fact that the websites that rank higher get more traffic and business. And without organic SEO, it's next to impossible to secure top rankings. And without organic SEO, it's next to impossible to secure top rankings.
Ethical SEO is Key to Securing Top Ranks in SERPs
At WebMechanix, we specialize in running successful search engine optimization campaigns for small, medium to large organizations in Vancouver. We help you gain online exposure and achieve your business goals. Our Vancouver based  professional SEO Company know how to optimize your website to entice more traffic and generate more leads. From competitor analysis, keyword research to conversion rates, we handle everything.
How Search Engine Optimization Works
When a user is looking for a particular service or product, he/she will enter a keyword or key phrase into the search engines. Search engines then show the best possible results to the user. Generally, it is the first page that gets most of the attention and traffic. So, it is necessary to be at the first page to get the attention of your potential customers.
There are many SEO companies that lure people by claiming to get higher ranking in less time. Never fall for such claims as most of these agencies use black hat SEO, bad link building and keyword stuffing to get you instant results. Such techniques do no good to your website rather they might get you penalized by search engines. Our Vancouver SEO experts always use organic methods that can get you long-term results.
Features Of Our Search Engine Optimization Services In Vancouver
Original and quality content that is search engine and user friendly
On page' optimization - unique page titles, effective page structure and quality content
Pay Per Click Campaign to get huge online exposure and instant traffic
Relevant, high quality inbound link structure to give you an authority in your realm
Local search plan to ensure your presence in the local directories and listings
Email marketing, social bookmarking and social network advertising
Guest posting for blogs and articles
Our team will provide monthly ranking and progress reports to our clients
At WebMechanix, we help our clients stay a step ahead of their competition. With our solutions, we drive more and more qualified traffic to your site to maximize your ROI. We make sure that our every method and approach contribute to your online reputation and popularity.